The Central European Network for Sonic Ecologies (CENSE) is an informal network of individual voices coming from various backgrounds. We propose this emerging network to fill the need of fostering more perceptive and conscious thinking and solutions, addressing developments in the social and cultural fields of Central Europe (and beyond) related not only to sound art, ecomusicology, and sound per se, while keeping a central focus on deep environmental and social changes.
CENSE was established during the founding conference of the Central European Society for Sound Ecology (CESSE) held in Budapest, November-December, 2018, which was initiated and organized by Csaba Hajnóczy.
Find CENSE Elsewhere Online
Bandcamp Releases
Facebook Group
Facebook Meetings
Radio Punctum.cz/cense

Cense Almanac 2021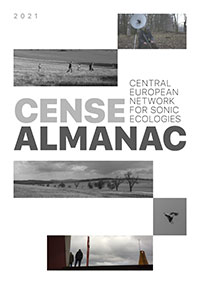 We asked the CENSE membership, in addition to others, five open-ended questions as a way of taking the pulse of our still-forming community.
What did they say?
To find out, download the free, open-access PDF: CENSE Almanac 2021.