Amanda Gutiérrez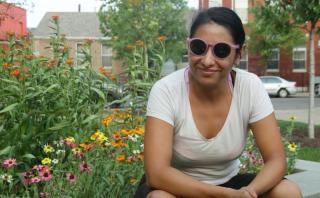 Amanda Gutiérrez explores the experience of home, belonging, and cultural identity by bringing into focus details of everyday practices whose ordinary status makes it particularly hard for us to notice their key role in defining who we are. Trained and graduated initially as a stage designer from The National School of Theater, Gutiérrez uses a range of media such as sound art and performance art to investigate how these conditions of everyday life set the stage for our experiences and in doing so shape our individual and collective identities.
Approaching these questions from women' perspective continues to be of special interest to Gutiérrez, who completed her MFA in Media and Performance Studies at the School of the Art Institute of Chicago and is currently elaborating the academic dimension of her work developing her Ph.D. studies at Concordia University in Canada, studying the field of aural technologies in connection with Gender Studies in the urban context. Most recently, Gutiérrez has focused especially on the role of sound in everyday experience, drawing on methods of urban studies and acoustic ecology. Through regular use of participatory techniques such as soundwalk and drift (dérive) she implements her vision of art practice as a critical and empowering engagement with the everyday forces that remain below our ordinary threshold of attention. Accordingly, these techniques also constitute the core of the pedagogical practice Gutiérrez has developed over a decade of teaching in diverse settings ranging from high schools on Chicago's South Side to a senior center on New York's Upper West Side, including academic institutions such as the SAIC, Connecticut College, and Rutgers University. The Liverpool Biennale (2012), Baxter Street Gallery (2017), Harvestworks at Governors Island (2019), Khiasma gallery in Paris (2015), Move Forward Festival, in Halle Germany (2014), Saloon Wien, in Vienne, Austria (2018), Studio Gallery in Shanghai, China (2018), among others. In New York, she has been the recipient of grants and residencies such as the Brooklyn Arts Council Artist Grant 2019, The New York Camera Club Artist Residency 2017, Harvestworks Artist Residency in 2018, and MISE-EN_PLACE Bushwick in 2018. Gutiérrez is currently one member of the Board of Directors of the World Listening Project and is a research assistant at Concordia's lab's PULSE as well as at the Acts of Listening Lab.
She is currently a Ph.D. student at Concordia University in the HUMA Department.
Photo by Ankur Singh
Explore Topics