Implementing comfortable soundscapes in urban spaces?
Ari Koivumäki

Tampere University of Applied Sciences
Thursday 23 November — Presentations
16.00 — 16.30
online
The concept of soundscape connects emotions and spaces together and creates the sense of a place and an atmosphere. To create sonic environments with a sense of safety does not mean preserving people from noise or masking intimidating voices with comforting soundscapes. More important is to bring up means to enhance the relationship between people and their sonic environment. Perceptions like hearing and listening are embodied action and tied to situations in acoustic environments. This orientation and control create suspension, reason to focus on listening and causes the feeling of being aware, present, embedded. We should feel home - and not a stranger in the acoustic community we live in.
One outcome during SURE project was to realize that once you get familiar with the others – and with places – entwined with senses, bodily sensations, and experiences, the feeling of safety increases. In my presentation I will study further how the safety experience depends on the sonic environment, situation, and expectations, aiming to find concepts and guidelines for planning and implementing comfortable soundscapes. Sonic architecture in urban environment might mean e.g., creating oasis zones with natural soundscapes around the city, develop courtyards and patios, small parks, roof gardens to city centers and start marketing their soundscapes. For railway stations or other gloomy places could be used made-up soundscapes to make them more comfortable. We should also try to create definitions and terminology for silent, soft, normal, or noisy places and use them as a criterion to get people approve the classification - as inhabitants must be aware of the value of a certain soundscape and identify the impact for the safety and wellbeing. Making soundscape routes with the locals can also be seen as a strategy to develop and guarantee the soundscape comfort by exploiting the information of soundscape phenomena.
Bio
Ari Koivumäki is working as Principal lecturer of Media production in Tampere University of Applied Sciences in Finland. He is Doctor of Arts from Aalto University, School of Art and Design, Film and Tele-vision (2018); Licentiate of Arts in Theatre and Drama focused on Sound Design from Theater Academy (2001), Tampere University, Master of Social Sciences, Social Psychology (1991). He has taken part in many Soundscape projects and publications in Finland together with Finnish Society for Acoustic Ecology (FSAE), affiliate representative in WFAE, e.g., European Acoustic Heritage, EU-funded project 2011- 2013.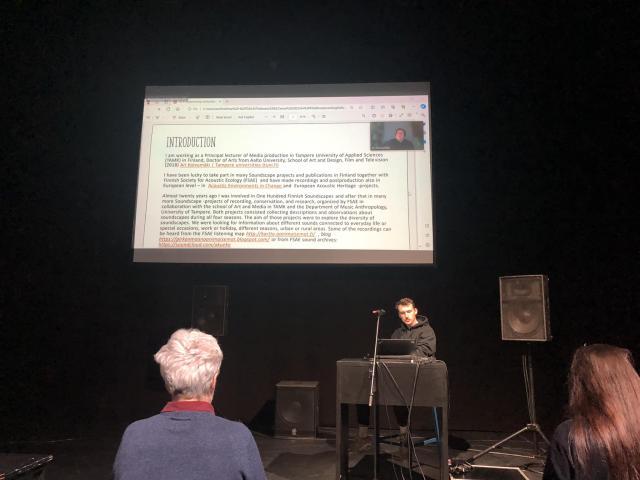 Explore Topics