Datscha Radio – Radio as Experimental Ethnography
Gabi Schaffner
Thursday 23 November — Presentations
16.30 — 17.00
My work and field of research are about radio-making as a resource for situated knowledge and local ecologies.
In 2012, "Datscha Radio" set out as a garden radio project: Situated in a former East German garden colony, we strove to open up the often invisible yet prevalent boundaries between past and present, private and public, garden and world. (Datscha = summer house) Datscha Radio uses the medium of radio to create new listening experiences beyond the usual dichotomies of nature/culture or transmitter/receiver. The point of departure and interface of all content is 'the garden' as a universal metaphor for diversity, knowledge culture and social commitment. Different from other artist- or community-based radio stations, Datscha Radio creates its site-specific radio art events only temporarily. The broadcasts are transmitted online as well as via micro-FM transmitters on-site. In 2014, the project investigated local garden cultures at the National Garden Show in Hessia, and was invited by MediaLab Prado in 2018 to broadcast from the urban garden of Lavapies in Madrid. As a transdisciplinary sound artist and experimental ethnologist, I am interested in understanding radio as an ecology and radio-making as a living condition, as a continuous call of invitation to listen to the surrounding world.
Next to decidedly experimental settings ("NightGardening", Berlin 2019), Datscha Radio engages in cross-cultural garden research, and broadcasted from Taiwan (2019) and most recently, Finland (Art Biennial Ii, "Air on Air", 2022). The project also sprouts radiophonic solo off-shoots exploring seasonal states of mind (KAAMOS Radio, Finland 2021) or topographies (Harakka Island Radio, Finland 2023).
In my lecture I would like to introduce several of Datscha Radio's most recent iterations (slide show/beamer), and discuss the perspectives of nomadic radio stations as havens of situated knowledge.
Bio
Gabi Schaffner works as a trans-disciplinary artist within the realms of radio art, composition and performance. Her artistic practice is determined by the methods of poetic ethnography in connection with fluxus-like mise-en-scènes, radio-making and sound art performances. Much of her work originates from journeys. Next to her radiophonic productions, Schaffner creates speculative musical genres and inserts them into music history in order to raise awareness for cultural, gender-related and/or geographical conditions.
Since 2005 Schaffner has been realising award-winning productions with Deutschlandfunk Kultur, radia.fm, Hessian Cultural Radio and ABC Australia. Since 2012 she maintains "Datscha Radio", a nomadic transmission project that links the medium of radio to current ecological issues.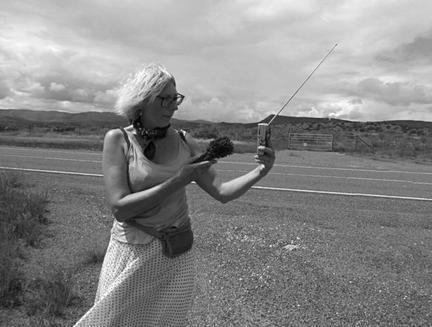 Explore Topics