Thursday 23 November, 7 pm - 8.45 pm
Furīfōru / fluvial
OR poiesis (a.k.a. Petra Kapš)
Fixed media format, 8-channels, 15 min.
Furīfōru / fluvial tracks the ecstatic feeling of levitation in the spherical music of waterfalls. As if in the free fall of water, its dispersion, the seismic impact of water molecules on the stone, an endless attraction, a climax without decrease, an ecstatic vibrational field that elevates the body is passionately created. Of course, when the body of flowing water is abundant. As the water recedes, they retreat, and everything changes.
The core inspiration of the composition is the dynamic between gravity and levitation. Furīfōru / fluvial delves into the elemental nature of bodies and their diverse rhythms - water, mineral, atmospheric. The hydroacoustic music is created with performative field recordings of waterfalls and rocks (recorded between 2012 - 2023: Šumik and Skalce waterfalls on mountain Pohorje, Veli Vir waterfall in Slovenian Istria and others, recordings of the KAMIsTONE instrument), sonification of waterfall and stone images (photography, scans). The processing of sonic material is aimed at the search for resonant frequency and fluvial composition.
At its essence, the work carries an affirmation of the sensual intertwining of elements, deepening into water-lithic eros; it proposes whole body listening experience. It emphasizes the perceptual sensitivity necessary for an expanded field of perception and a sense of the subtle levels of existence, the infinite interweaving of elements. We are fleeting guests of an entangled cosmic organism. Resonance deeply defines our being, as does temporal asynchrony. Furīfōru / fluvial explores ways to emphasise the role of ecstatic environments in the topography of the territory and in the territory of bodily experience.
Bio
Petra Kapš (alias OR poiesis) is an artist, composer, performer and researcher in the field of bio-, geo- and hydroacoustics, aural perception, interactive sound performance in a concrete, acoustic space, digitally enhanced reality and radio transmission. Her work focuses primarily on earthly/cosmic elements.Her aesthetic is strongly influenced by her practice of sonorous poetry, her passionate desire for silence, and her exploration of ecstatic, sonically saturated, chthonic, and spherical phenomena. She developed KAMIsTONE and TEKTON stone instruments. With all the digital dimensions, the physical presence of the body is central.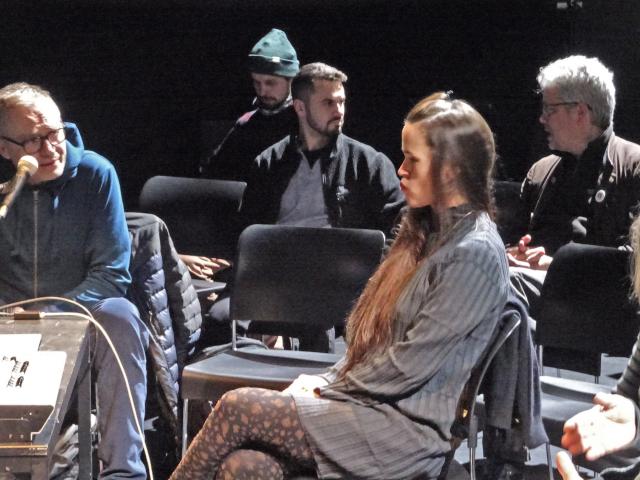 Explore Topics