Binaural Nodar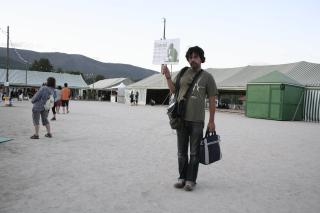 Binaural Nodar is a contemporary cultural project operating since 2004 in the Portuguese region of Viseu Dão Lafões in the areas of soundscapes, sound and media arts, audiovisual ethnographic documentation, sound education, radio art and publications. Binaural Nodar's intervention model is simultaneously based on on a local level, promoting a concept of permanent social mediation laboratory, with rural communities and, in a global context, with activities developed with contemporary artists, museums, universities and cultural organizations from many countries.
Luis Costa (Lisbon, 1968) is a sound documentarist, creator and educator working within the context of Viseu Dão Lafões region in center Portugal and being the coordinator of Binaural/Nodar, an arts organization dealing with site-specific sound art and experimental music in rural context, that has hosted over 150 international artists and researchers.
Alma Sauret (Valence, 1993) is a young french sound artist/experimental musician. She explores several pataphysical approaches to music and sound. She is presently attending the Master of Art at the School of Art and Design of Grenoble.
Explore Topics