Christopher David DeLaurenti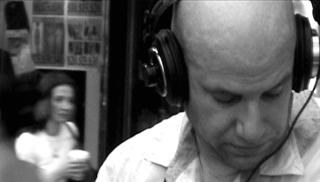 Christopher David DeLaurenti is an American sound artist, improvisor, and phonographer. His sound work encompasses field recordings, electroacoustic and acousmatic music, text-sound scores, free-improvised low-tech electronics, and compositions for acoustic instruments. Christopher's work appears on various solo, collaborative, and compilation albums by Electroshock Records (Russia), GD Stereo (USA), Locust Music (USA), Resonance Magazine (UK), DRAFT (USA), Soccer Mom Ebonics (USA), reductive music (Spain), banned production (USA), NAISA (Canada), mimeograph (USA), Ambolthue (Norway), and/OAR (USA), SoundWorks (Ireland), dorkbot-Seattle (USA), Public Record (proudly stateless), Present Sounds Recordings (USA), elektramusic (France), Spectropol (USA), and Move Records (Australia).
Christopher has received several awards and residencies, notably the Alpert Award/Ucross Residency Prize and an Artist Trust / Washington State Arts Commission Music Fellowship as well as fully-funded artist residencies at Engine 27, Harvestworks, and CENTRUM. In 2007, his album Favorite Intermissions: Music Before and Between Beethoven-Holst-Stravinsky was profiled in The New York Times, received accolades from The Wire magazine, and appeared as a Top 10 pick in Artforum. A committed teacher, Christopher has taught master classes, guest-lectured, and conducted studio critiques at many colleges and universities including the College of William & Mary, School of the Art Institute of Chicago, the University of Washington, and Cornish College of the Arts. As a music writer, Christopher's articles, essays, and reviews have been published in The Stranger, Soundscape: The Journal of Acoustic Ecology, The Seattle Weekly, The Seattle Times, Signal to Noise, MSN Music, Leonardo Music Journal, The Believer, and Earshot Jazz. Appearing in numerous exhibitions, radio broadcasts, and concert festivals, Christopher's sound work has been heard around the world. Some notable performances: Radio National, Australia (2015), Goldsmiths (2014), Third Practice Festival (2013) Whitney Biennial (New York, 2012), Museum of Modern Art (New York, 2011), The Kitchen (New York, 2011), Chapel Performance Space (Seattle, 2011), INSTAL 10 (Glasgow, 2010), Bellingham Electronic Arts Festival (2009), Taipei Biennial (2009), the Seattle Improvised Music Festival (2002 and 2008), Spark Festival of Electronic Music and Arts (Minneapolis, 2008), Artivistic 07 (Montreal, 2007), Decibel Festival (Seattle, 2007), Unsafe2 Festival (Poole UK, 2006), Bumbershoot Visual Arts Festival: In Resonance (Seattle, 2005), Musica Nova (Ploesti Romania, 2003), Electric Rainbow Coalition Festival (Dartmouth College New Hampshire, 2003), Mixtophonics (Vancouver BC, 2001), Olympia Experimental Music Festival (1998, 2001), and Electromuse One (1997).
photo: I. Vollmer
Making Activist Sound
"To listen is to liberate. I start with myself by taking microphones toward and—when I muster enough courage— beyond the boundaries of property, the law and oppression. I make field recordings, but I am not interested in building a documentary archive or capturing the essence of a place or an event. When I tape small microphones to my skull, or button up a stout leather vest with sewn-in mics, or strap an ORTF stereo pair to my homemade mic boom, I am venturing into the world to ask, "Who is heard?" "Who has?" "Who is here?" and "Why are we listening to this right now?" I ask these questions to open my ears and open my heart. Can I hear justice? I do not wait for quiet utopias. Let other field recordists seek the primordial absence of civilization. My "field" is the city, among people. The field is not a place, but an unstable condition where the soundscape may change radically at any moment. In the studio, it seldom rains. Out in the field, I listen and learn to re-listen. Recording spurs me to imagine what I will miss and what my microphones pick up. Subject to sensory adaptation, my ears quickly subsume passing cars and juddering helicopters into a dull, recessed drone while the portable recorder continues to capture rumbling and careening movement. Microphones help me bypass the cocktail party effect, preserving a polyphony otherwise bisected into foreground sound and everything else. "The ear selects," writes John le Carré in The Little Drummer Girl, "machines don't.""
part of: Making Activist Sound, Leonardo Music Journal, 2015
Explore Topics