Ludwig Paul Koch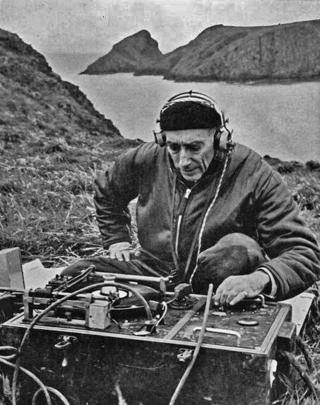 Ludwig Paul Koch (1881, Frankfurt am Main -1974, Harrow, London) was a broadcaster and sound recordist. An expert on recording animal sounds, he played a significant part in increasing the British public's appreciation of wildlife. Koch was born into a music-loving Jewish family as Paul Ludwig, and as a boy violinist, he was admitted to Clara Schumann's music circle. Later, he studied singing, and had a short but successful career as a concert singer. This was ended by the outbreak of World War I. Because he spoke fluent French, he joined military intelligence and later became chief delegate for repatriation for the French-occupied zone of Germany. In 1928, he was commissioned by the German subsidiary of Electric and Musical Industries (EMI) to start a cultural branch of the gramophone industry; this coincided with a revival of his childhood interest in animals and from 1929, he began recording animal sounds using up-to-date equipment. Within four years he published three Sound-books on animals in collaboration with Dr Lutz Heck, then Director of the Berlin Zoo, and the renowned ornithologist, Dr Oscar Heinroth with whom he produced in 1935 the first sound-book of wild birds, Gefiederte Meistersänger (Feathered Mastersingers) covering 25 species which were recorded between 1927 and 1935. At this time Germany was under full control by the Nazi Party and following a series of confrontations with party officials, he resolved to leave Germany.
Soon after his arrival to the UK, encouraged and aided by Sir Julian Huxley, he began working on a new sound book of English wild birds with E.M. (Max) Nicholson. 'Songs of Wild Birds' was published, illustrated by photographs and two double-sides, ten-inch gramophone records with the songs of 15 species. Huxley introduced Koch to the British Broadcasting Corporation, and his distinctive, yet attractive and rather musical, voice accompanying his sound recordings soon became familiar to listeners. His sound recordings were acquired by the BBC and established the BBC's library of natural history sound. When he was not busy processing his recordings for the BBC sound archives, he was out in the field actively making new recordings and broadcasting regularly as a result of expeditions to various parts of the British Isles, such as the Channel Islands, Dartmoor, the Norfolk Broads, Cornwall and the Isles of Scilly, the Pembrokeshire island of Skomer, the Scottish Highlands and Shetland.
Koch retired in 1951, but continued to make expeditions to record wildlife sounds, visiting Iceland when he was seventy-one. He was the subject of a 2009 BBC Radio 4 documentary, "Ludwig Koch and the Music of Nature". His recordings and manuscript papers are preserved in the British Library Sound Archive.
Altogether Ludwig Koch recorded some 171 species of birds, 65 mammals and 10 other animal species.
Explore Topics